Dr. William N. Sullivan
Dr. Sullivan was born and raised on Long Island, NY. He attended the prestigious Chaminade High School and received his Bachelor of Science in Biology at Fordham University in New York City. He then followed his childhood dream and attended the University at Buffalo School of Dental Medicine. Dr. Sullivan was the recipient of the Excellence in Prosthodontics award, which is given to the student who exhibits the most outstanding skill and clinical knowledge.
Upon graduation, he completed a general practice residency at Mt. Sinai Medical Center in Miami Beach, Florida. In addition, Dr. Sullivan has trained at the Pankey Institute in Key Biscayne, Florida where he studied advanced dental procedures and the management of temporal mandibular disorders. He joined the practice in 1999 where he provides advanced comprehensive dentistry. Dr. Sullivan is a member of the American Academy of Cosmetic Dentistry and the American Academy of Implant Dentistry. In addition, he is a member of the American Dental Association, the West Coast Dental Association, and the Collier County Association.
Dr. Christopher Stanosheck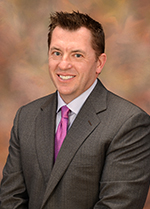 Dr. Stanosheck was born and raised in Omaha, Nebraska. He attended undergraduate college at Creighton University, where he graduated with a BS in Biology. He then graduated from Creighton University School of Dentistry in 2000 where he received his Doctorate of Dental Surgery. After dental school, he graduated from the University of Nebraska Medical Center (UNMC) with a Residency of Hospital Dentistry.
After residency, Dr. Stanosheck operated a successful cosmetic based practice in Omaha for over 10 years. He regularly attends the prestigious Las Vegas Institute for Advanced Dental Studies (LVI). At LVI he receives on-going training in smile design, aesthetics, full mouth rehabilitation and neuromuscular dentistry. He has held faculty positions at UNMC and Creighton University. Dr. Stanosheck was an Associate Professor of Prosthodontics for over 15 years. Dr. Stanosheck is a member of the American Academy of Cosmetic Dentistry (AACD), the International Association of Physiologic Aesthetics (IAPA), the American Association of Hospital Dentists (AAHD), and various state and local dental associations. Dr. Stanosheck has lectured nationally on topics such as aesthetics and treatment of the compromised patient.